Peru Real Food Adventure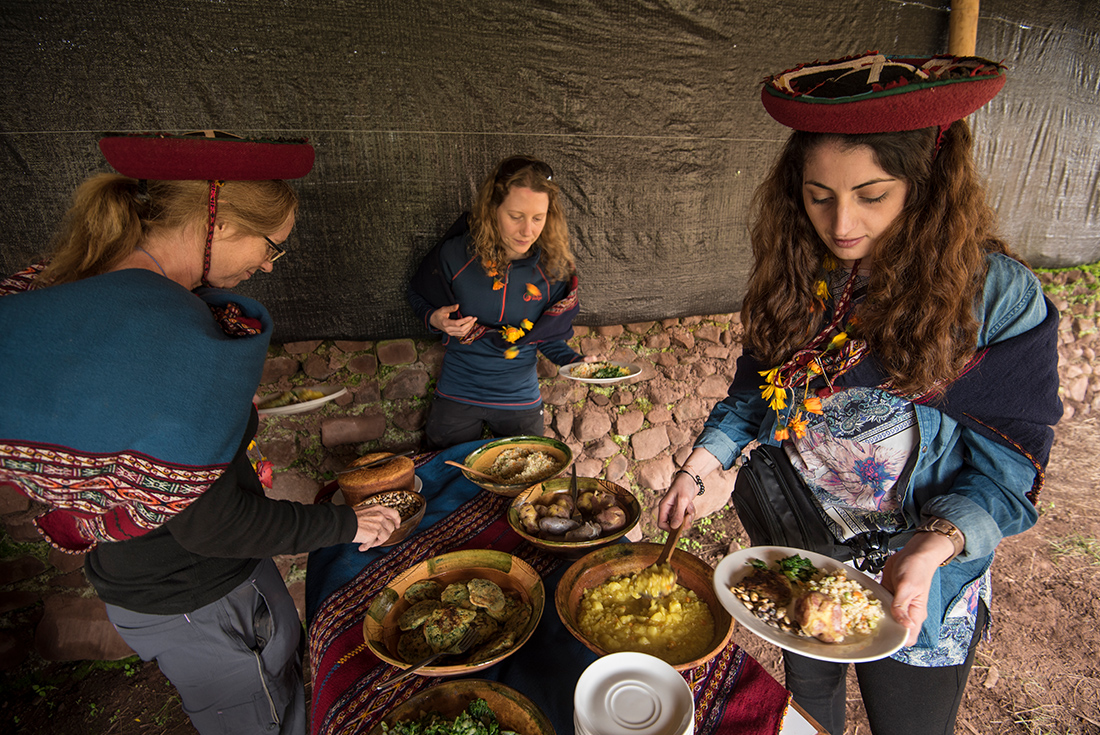 Peru Real Food Adventure
Peruvian food and topography go hand in hand. Using what pachamama (mother earth) gave them, the Peruvians have developed a cuisine that combines local and international flavours. And undoubtedly it is the geography of Peru that makes its culinary culture so distinct. With the coast providing an abundance of fresh seafood, the Andean highland supplying a variety of potatoes and the Amazon rainforest delivering delicious seasonal fruits, it's unsurprising that Peru is one of the world's foodie hotspots.
Activities
Lima - Colonial District City & Food Walk
Lima - Guided tour of San Francisco Monastery including The Catacombs
Lima - Barranco walking tour
Lima - Ceviche Cooking Demonstration and Lunch
Lima - Pisco Distillery Visit and Tasting
Cusco - Leader-led orientation walk
Cusco - Andean Cooking Class
Sacred Valley - Brewery Tour and Tasting
Sacred Valley - Moray Incan Archaelogical Site
Sacred Valley - Chichubamba Community Lunch
Sacred Valley - Maras Salt Mines Visit
Ollantaytambo - Archaelogical site entrance and guided tour
Huayopata - Cacao farm experience
Huayopata - Coffee farm tour
Machu Picchu - Entrance and guided tour
Sacred Valley - Pachamanca Experience & Lunch
Sacred Valley - Pisac Market & Empanada Tasting
Highlights
It's delicious, diverse and hands-on. You'll learn the secrets of ceviche, make your own Pisco sour, learn a few Andean cooking tips with a foodie in Cusco and eat empanadas straight from a wood-fired oven.
Pay a visit to a cacao farm and get involved in the whole process from planting to the final product. Enjoy a farm-cooked dinner and stay overnight on the family's farm.
Indulge in a tour and tasting at one of the Sacred Valley's first craft breweries. Whet your whistle with a pint of the fruity local IPA, the citrus tinged American pale ale, the caramel malts of the Ayrampo Roja red ale or the hearty chocolate notes of the imperial porter.
Discover the breadth of Peruvian cuisine in all its rich and colourful history, from the rustic 'pachamanca' tradition to Lima's world-class street food scene.
No trip to Peru is complete without seeing Machu Picchu, explore this Incan metropolis with a local guide and learn more about this ancient civilisation.
For over 30 years we've been taking travelers around the globe. That's over 30 years of adventures, of visiting new places and old friends, of countless unforgettable moments. More than 30 years of changing the way people see the world, on small group tours with like-minded Intrepid people.
As a responsible business, we've always been committed to being there for our travelers and the communities we visit. So, you can trust that when you travel with us, we won't just be there for you
...