Swiss Delight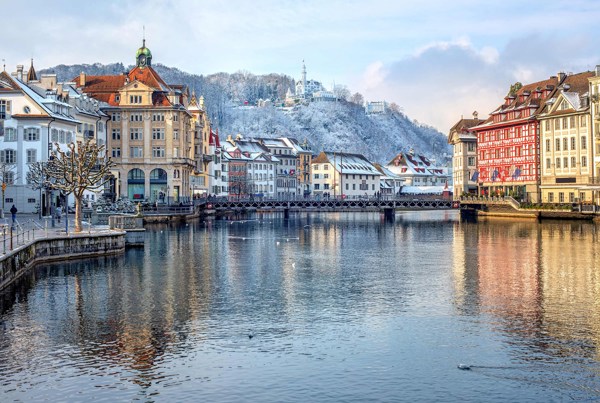 Swiss Delight
Get swept up in the charm of Switzerland's lively cities and soul-stirring landscapes on this perfect winter break filled with magical Christmas markets, delicious food and plenty of opportunities to shop.
Dining Summary
1 Welcome Reception (WR)
7 Breakfast (B)
1 Lunch (L)
2 Dinner (D)
Be My Guest
Bourg-en-Lavaux: Enjoy Swiss hospitality and the flavours of local wines, cheeses and breads with the owner of a local vineyard overlooking Lake Geneva.
Dive Into Culture
Brienz: Learn about Switzerland's wood-carving heritage at the Jobin wood sculpture museum in Brienz.
Iconic Experience
Montreux: At the foot of the Alps this town boasts one of the most beautiful walks along Lake Geneva, join your Travel Director for an orientation before time at leisure this evening.
Geneva: Spend the day taking in the spectacular views of Geneva.
Bern: Explore Switzerland's capital and see the Cathedral of St. Vincent, clock tower and Ogre Fountain.
Brienz: Join your Travel Director for a leisurely drive along Lake Brienz. Marvel at the natural beauty of this region as you view the peaks of Bernese Oberland.
Switzerland: Marvel at the Alpine landscape as you drive past breathtakingly beautiful mountains and valleys.
Lucerne: During an orientation with your Travel Director, see the Lion Monument, Old Town Hall and Chapel Bridge, the oldest wooden covered bridge in Europe.
Tour Differently isn't just what we promise, it's what we deliver.
Dream holidays without the stress of the 'what ifs', is what we do. We design our tours so you can experience the world differently. You'll get the personal service, attention to detail and ease you're looking for, while enjoying the unmissable experiences you've always dreamed of. Discover why Trafalgar tours have been trusted by 5 million guests and are proud to deliver the very best tours that you'll cherish for ye
...
Airfare not included, Various departures
Airfare not included, Various departures