National Parks and Native Trails of the Dakotas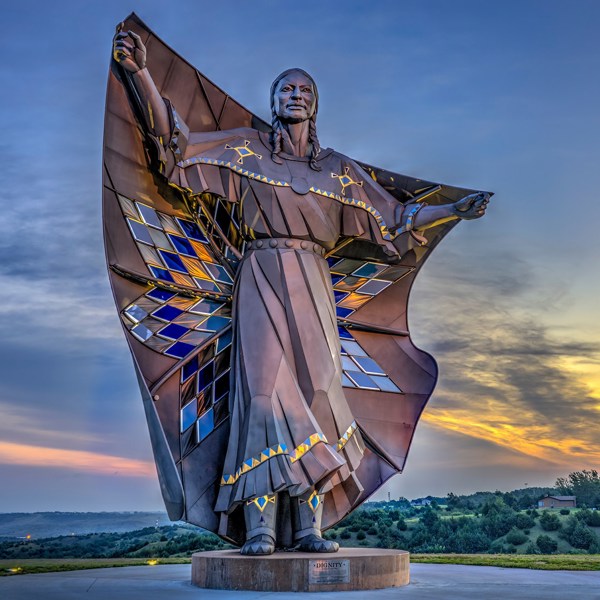 National Parks And Native Trails Of The Dakotas
This bespoke, culturally-rich itinerary supports the growth of indigenous tribal tourism in the USA , developed in collaboration with local communities in the Dakotas, for an authentic, one-of-a-kind insight into Native American history and heart. Through the power of storytelling through passionate locals you'll meet, you'll leave enlightened by your visits to four reservations of the Dakotas, as well as National Parks and monuments to discover first-hand the stark and rich history and future of the people that call it home. Packed with meaningful travel experiences, this is a must-book itinerary supporting culture and heritage of our important Tribal Nations.
Dining Summary
1 Welcome Reception (WR)
8 Breakfast (B)
3 Lunch (L)
2 Dinner (D)
Be My Guest
Chamberlain: The future of the Lakota Oyate "Lakota Nation" takes center stage as you Connect with Locals Marla C. Bull Bear, Executive Director of LYD, and the Rosebud tribal youth and members for a traditional storytelling, an original performance, a traditional meal during this Be My Guest Experience, and plant knowledge as you get a true taste of the prairie and everything Grandmother Earth has to offer. Learn about their mission to reclaim their language, culture, and spirituality and how this experience supports local youth.
Dive Into Culture
Pine Ridge Reservation: Learn the History of Wounded Knee as told by Warren Yellow Hair as you look upon where it happened. Listening to stories told from generation to generation will give you a perspective that cannot be gained from a history book but rather an authentic and emotional experience.
New Town: Enjoy a guided tour of the Earth Lodges and see how the MHA people used to live. The tour is followed by the incredible opportunity to witness dancers and singers perform a cultural dance. The meaningfulness of each dance and song will leave you touched and with a deeper understanding of the culture of the Mandan, Hidatsa and Arikara.
Iconic Experience
Badlands National Park: Enjoy the spectacular sights as you make your way through Badlands Loop Road.
Black Hills: Contribute to the preservation of the heritage of Native Americans during a visit to the Crazy Horse Memorial. This iconic monument represents the Oglala Lakota warrior 'Crazy Horse' on land considered sacred, in the Black Hills of South Dakota.
Chamberlain: The Dignity sculpture, a stunning combination of art and history. Specifically designed by sculptor Dale Lamphere to honor the cultures of the Lakota and Dakota people Dignity of Earth and Sky is a soaring sculpture of a native woman standing high on a bluff above the Missouri River.
Pierre: You'll travel through and past the different indigenous communities and reservations in South Dakota.
Theodore Roosevelt North Unit: Head to the North Unit of Theodore Roosevelt National Park this morning, the less frequented part of the National Park that should not be missed. The scenic drive starts at the bottom of the badlands and crawls up out of the canyon to the North Unit's most iconic view, River Bend Overlook. Unusual yet totally fascinating geological formations like the cannon ball concretions can be seen and a high chance of wildlife like Bison and bighorn sheep.
MAKE TRAVEL MATTER®
Rapid City: Meet Stephen Yellowhawk or a Lakota Tribe Member and discover the history of his tribe during a festive evening of dance and song.
Rapid City: Travel to the past from the present at the Oglala Lakota Living History Village and gain priceless insights into the culture and indigenous knowledge of Lakota Country.
Pine Ridge Reservation: Enjoy a traditional box lunch prepared by a local Lakota family before your next activity.
Rosebud Reservation: Get an insider's view from a Local Specialist at the Rosebud Indian Reservation, home to the Sicangu Lakota Oyate Nation, for a deeply meaningful MAKE TRAVEL MATTER®?Experience that intertwines Native culture and life while adding to their growing economy of tribal tourism.
Rosebud Reservation: Enjoy a lunch of local foods from the Lakota Tribe at Turtle Crossing. After lunch you'll learn about Rosebud's food sovereignty projects, life on the reservation, and economic initiatives for the area from a community member involved in the projects.
Rosebud Reservation: Enjoy a visit to Sinte Gleska University where you will be given a Star Knowledge Presentation by a Lakota elder, Victor Douville.
Fort Yates: Meet Jennifer Martel, also known as Wahukaze Nunpa Win, who will share with you her experiences of speaking at the United Nations, being part of the Standing Rock Movement, and being on the board of the Indigenous Peoples Movement.
Fort Yates: You will get to experience and learn about traditional plants hands-on as you make your own tea-mix based on what healing purposes you want to focus on.
New Town: You'll have the chance to browse arts and crafts from local community members in the gift shop. If you choose to purchase any art or craft pieces the proceeds will directly support the artisans of the community and help to raise awareness of what they do.
Must-see Highlights
: Explore Medora
: See Dignity Statue, Sitting Bull & Sakakawea Monument
: View Crow Flies High outlook
: Visit Pine Ridge Indian Reservation, Rosebud Indian Reservation, Standing Rock Indian Reservation, Fort Berthold Indian Reservation
: Scenic Drive to Badlands Loop Road Drive, Mobridge via Native American Scenic Byway,
: Explore Mount Rushmore National Memorial, Crazy Horse Memorial, Theodore Roosevelt National Park
: Visit Indigenous communities and learn, see & hear about history & traditions.
: ...
Tour Differently isn't just what we promise, it's what we deliver.
Dream holidays without the stress of the 'what ifs', is what we do. We design our tours so you can experience the world differently. You'll get the personal service, attention to detail and ease you're looking for, while enjoying the unmissable experiences you've always dreamed of. Discover why Trafalgar tours have been trusted by 5 million guests and are proud to deliver the very best tours that you'll cherish for ye
...
Airfare not included, Various departures