Turkey Real Food Adventure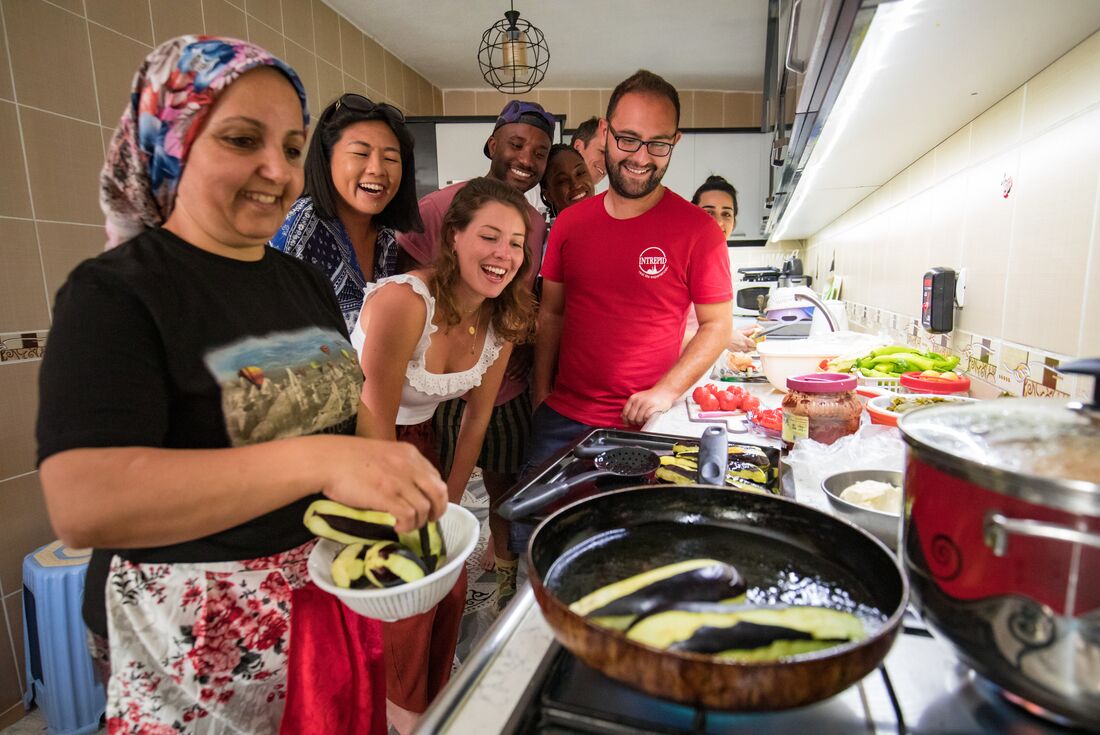 Turkey Real Food Adventure
Get up close and personal with Turkey's age-old culinary traditions on this authentic food adventure. From ancient recipes with modern twists to Asian-inspired feasts with European influences, take a tongue-tingling journey beyond the cookbook and discover the secrets behind delicious Turkish dishes. Enjoy a cooking class in the caves of Cappadocia, learn from a celebrated local chef in Selcuk, and explore the impressive ruins of Ephesus. Whether you're wandering through the passageways of Istanbul's Grand Bazaar or flying high in a balloon above the fairy chimneys of Goreme, embark on an experience that goes above and beyond what you think you know about Turkish cuisine.
Activities
Istanbul - Welcome Dinner
Istanbul - Spice Market tour
Istanbul - Kadikoy visit and street food tour
Istanbul - City Tour
Gallipoli - Battlefields visit
Canakkale - Leader-led orientation walk
Canakkale - Cheese and jam tasting
Havran - Olive Oil Farm
Adatepe - Altar of Zeus
Ephesus - Archaeological site visit
Selcuk - Sultankoy Village Carpet Weaving
Selcuk - Cooking class
Selcuk - Leader-led orientation walk
Izmir - Street eats and city tour
Cappadocia - Derinkuyu Underground City
Goreme - Sunset wine tasting
Goreme - Red Valley walk
Goreme - Soganli Valley walk
Mustafapasa - Coffeehouse visit and tasting
Goreme - Cooking Class
Cappadocia - Pottery demonstration
Istanbul - Balik ekmek (fish sandwich)
Highlights
Discover the secrets behind Turkish dishes during a cooking class with a celebrated local chef in Selcuk, and learn how to make central Anatolian dishes with a local chef in her cave home.
Meet the people behind the dishes, from the market vendors serving up sizzling street food in Izmir and Istanbul, to the owners of a local olive farm in a rural village.
Explore bustling Istanbul, walk among the fairy chimneys of Cappadocia, hear the wartime stories of Gallipoli and wander through the ancient ruins of Ephesus.
Taste the country's most cherished dishes, from iconic kebabs and world-famous Turkish delight to local favourites like baklava, pide, gozleme and fish sandwiches.
Get to know the artisans behind local crafts when you visit a social enterprise that trains local women in carpet weaving, and visit a family-run pottery studio that's been in business for six generations.
By travelling on this trip, you'll directly support our Intrepid Foundation partner, CYDD (Çagdas Yasami Destekleme Dernegi). Donations help them provide scholarships and educational programs for economically disadvantaged youth in Turkey.
For over 30 years we've been taking travelers around the globe. That's over 30 years of adventures, of visiting new places and old friends, of countless unforgettable moments. More than 30 years of changing the way people see the world, on small group tours with like-minded Intrepid people.
As a responsible business, we've always been committed to being there for our travelers and the communities we visit. So, you can trust that when you travel with us, we won't just be there for you
...