Scenic Wonders of Newfoundland & Labrador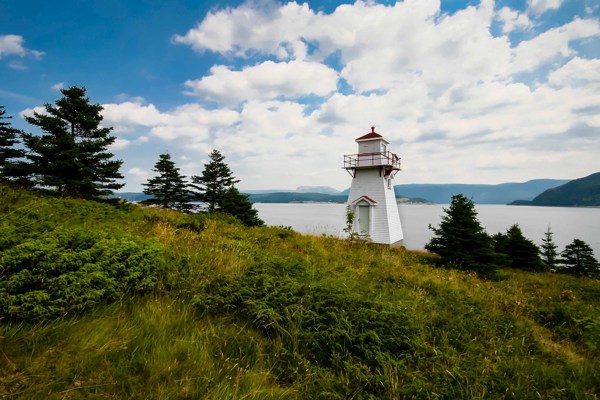 Scenic Wonders Of Newfoundland & Labrador
Wild beauty, hospitality, and centuries of maritime traditions await you on this Canadian tour. Each day brings a new adventure: meeting local fisherman, watching for whales and puffins, touring a nineteenth-century lighthouse, visiting a scallop farm, and tasting your way around an Auk Island winery.
Dining Summary
1 Welcome Reception (WR)
13 Breakfast (B)
2 Lunch (L)
7 Dinner (D)
Be My Guest
St. John's: Enjoy lunch at Chafe's Landing hosted by Todd Chafe and his father. After lunch, learn about the significance of cod and snow crab fishing, something the Chafe family has been doing for generations.
St. Anthony: Journey to Labrador to scenic Fisher Point, where we'll enjoy breakfast in a replica Viking sod hut.
Dive Into Culture
St. John's: As we board the Witless Bay Ecological Reserve Boat Tour, keep an eye out for Atlantic puffins and whales (seasonal) in their natural habitat. Depending on the time of year, there's a chance to see Icebergs as well.
St. John's: Visit Quidi Vidi Brewery for a flavor profile demonstration and tasting of several house brews including their Iceberg Beer, made with 20,000 year old iceberg water harvested from icebergs off the coast of Newfoundland.
St. John's: Embark on an educational experience at The Rooms Cultural Center where you can enjoy the collection of exhibits and frequent events being held.
Cape Bonavista: Visit the Lighthouse on Cape Bonavista and see if you can spot whales, icebergs and puffins (in season).
Twillingate: Meet a local boat builder in Twillingate to hear about this art which has been handed down from generation to generation.
Twillingate: You'll love this tour and tasting experience at Auk Island Winery, savouring the flavors of Newfoundland berries and fruits.
Twillingate: join a local specialist this morning for a guided walk in Terra Nova National Park. You'll encounter a landscape of sheltered inlets, headlands and forests. a beautiful brush with these rugged landscapes.
Gander: Join a local specialist for a tour around Gander, which served as inspiration for the international Broadway musical "Come from Away," Learn about the significant role this small Newfoundland community played during the 9/11 disaster.
Gros Morne: Join a local specialist on a guided walk of UNESCO- listed Gros Morne National Park. Enjoy a rare opportunity to walk upon the exposed Earth's mantle along the Tableland's Trail.
Gros Morne: Enjoy dinner at The Fish Sheds, an authentic fishing shed decorated with fishing industry artifacts overlooking Bonne Bay.
Gros Morne: Visit the scenic Lobster Cove Head Lighthouse and breathe in the sea air.
St. Anthony: Continue to L'Anse aux Meadows National Historic Site for a tour of the UNESCO-listed 11th century Viking settlement with a Local Specialist.
L'Anse-au-Clair: Learn how to shuck a scallop like a local at a farm in Blanc Sablon.
L'Anse-au-Clair: Encounter a millennia of human history at the crossroads of four ancient cultures in Port aux Choix National Historic Site.
Iconic Experience
St. John's: Embark on a city tour of St. John's, including a stop at Cape Spear, the most eastern point of North America.
St. John's: Visit Signal Hill which offers sweeping views of the Atlantic and the site of Cabot Tower, where the first Trans-Atlantic wireless message was received over 100 years ago. Quidi Vidi is a quaint fishing village lined with colourful cottages and fishing stages. This idyllic village offers a glimpse into local lifestyle.
St. John's: Visit Cupids, the second oldest English Settlement in North America. The small town is celebrated for its architecture and archaeological sites. Then visit the picturesque village of Brigus, well well-kept with old-style architecture, rustic stone walls, lush green gardens, and winding narrow lanes are reflective of its English, Irish, and Welsh heritage.
Clarenville: Join a Local Specialist on a walking tour of Trinity, a magical little town. Learn about the colorful history of its inhabitants, the Beothuk people, the French, the Irish, and the English.
Gros Morne: Board your choice of boat tour this morning to explore the Gros Morne National Park your way. Enjoy live commentary about the geological wonders and rich cultural history of the bay or explore a spectacular glacier-carved land-locked fjord.
Gros Morne: Trace the rugged and scenic coastline of Western Newfoundland with a stop at Arches Provincial Park, a unique natural rock archway created by tidal action.
MAKE TRAVEL MATTER®
Twillingate: Discover the existence and demise of an extinct people when you visit the Beothuk Interpretation center, which reveals the history of a now vanished language and culture.
Must-see Highlights
: Explore St. John's and Gander
: Discover Corner Brook and Twillingate
: Visit Cape Bonavista, Terra Nova National Park, Gros Morne National Park, and UNESCO World Heritage sites of Red Bay in Labrador and Viking settlement L'Anse aux Meadows, and Port aux Choix National Historic Site
: Scenic Cruise along iconic Witless Bay and Gros Morne National Park
: Scenic Drive along the rugged coastline of Western Newfoundland with a stop at the Arches Provincial Park
Trafalgar Difference
Corner Brook: Stay at The Glynmill Inn, a Tudor-style 'Staff House' built for senior executives of the Newfoundland Pulp and Paper Company in the early 1900s.
Whats Included
: Must-see sightseeing and surprise extras
: Optional Experiences and free time
: Breakfast daily and up to half of your evening meals
: All hotel tips, charges and local ...
Tour Differently isn't just what we promise, it's what we deliver.
Dream holidays without the stress of the 'what ifs', is what we do. We design our tours so you can experience the world differently. You'll get the personal service, attention to detail and ease you're looking for, while enjoying the unmissable experiences you've always dreamed of. Discover why Trafalgar tours have been trusted by 5 million guests and are proud to deliver the very best tours that you'll cherish for ye
...
Day
Destination
1
Greetings St. John's
2
Enjoy St. John's Sightseeing Connect with Locals
3
Explore Signal Hill And Quidi Vidi Dive Into Culture
4
Go Back In Time To Olde English Settlements
5
Uncover The Natural Beauty of Bonavista Dive Into Culture
6
Tour Enchanting Twilingate Dive Into Culture
7
Discover The Impact Of Gander Make Travel Matter
8
Uncover Earth's Secrets At Gros Morne National Park
9
Voyage Through Gros Morne National Park
10
Taste The Wilderness At Arches Provincial Park
11
Shuck Scallops In Blanc Sablon Dive Into Culture
12
Voyage Back In Time At Red Bay
13
Unmask The Ancient History Of Newfoundland Stays With Stories
14
Depart Corner Brook