Colourful Trails of the Southwest End Albuquerque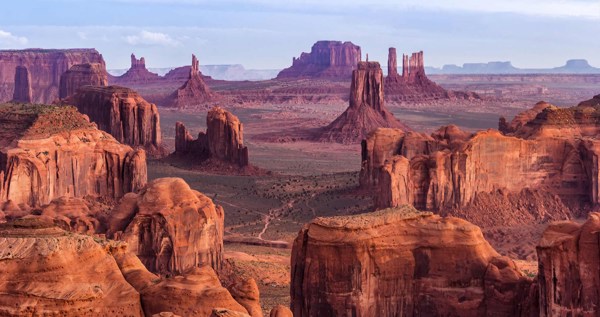 Colourful Trails Of The Southwest End Albuquerque
On this Southwest USA tour, each day is a cultural and natural adventure. You'll stay inside Grand Canyon National Park, explore ancient Puebloan cliff dwellings in Mesa Verde National Park and natural arches near Moab, and ride a 4x4 through Monument Valley's landscapes with a member of the Navajo Nation.
Dining Summary
1 Welcome Reception (WR)
9 Breakfast (B)
2 Lunch (L)
2 Dinner (D)
Be My Guest
Moab: Enjoy a hosted Be My Guest dinner at Canyon Steak and Waffle hosted by Shawn Welch. She worked as a server for many years before purchasing her own old-style diner.
Dive Into Culture
Grand Canyon National Park: Meet a geologist at the South Rim of the Grand Canyon to learn about how this natural marvel was formed and all the different layers that make up the Colorado Plateau.
Iconic Experience
Grand Canyon National Park: Arrive at one of the seven natural wonders of the world and the second most visited national park in the United States, the Grand Canyon. Encompassing 278 miles (447 km) of the Colorado River and adjacent uplands, Grand Canyon is one of the most spectacular examples of erosion anywhere in the world and offers unmatched vistas along its rim.
Oak Creek Canyon: Drive through Coconino National Forest on one of the most scenic drives in the U.S., offering a picture perfect view of the surrounding red-rock and Ponderosa Pine forest between Sedona and Flagstaff, Arizona.
Glen Canyon Dam: Enjoy a walk to the rim of Glen Canyon where you will get the chance to visit Horseshoe Bend.
Monument Valley: Board a 4x4 vehicle and navigate the iconic red valley landscape guided by a member of the Navajo Nation and Local Specialist.
Arches National Park: Visit Arches National Park, housing the greatest concentration of natural arches in the world. Some 6,000 natural sandstone arches can be found within the boundaries of the national park.
Canyonlands National Park: It's on to Canyonlands National Park for a drive onto the Island in the Sky - a mesa resting 1,000 feet (305 meters) above the surrounding countryside, offering spectacular views over the dramatic sandstone formations.
Mesa Verde National Park: Admire the ancient cliff dwellings of the Ancestral Puebloan people, carved out of the sandstone of the canyon walls, at the UNESCO-listed Mesa Verde National Park. Several hundred of these dwellings, in addition to thousands of known archaeological sites, are preserved in this protected area and you'll have an opportunity to see several during your visit to the park, as you ride along the Mesa Top Loop, and Cliff Palace Loop, where you can see the magnificent Cliff Palace.
Taos: Explore Taos Pueblo with Local Specialists who call Taos Pueblo home. Gain insight into the history of the pueblo and what it is like to live there today.
MAKE TRAVEL MATTER®
Grand Canyon: Travel to Desert View and bask in the views of the Grand Canyon and the iconic watchtower decorated with its Hopi artist murals. Make your way to an Inter-tribal Cultural Heritage site where members share their stories, family histories and provide cultural demonstrations such as carpet weaving and traditional song and dance performances. Our visit and donation provide a continuous source of seed funding for the heritage site while allowing guests to engage directly with Indigenous community members.
Monument Valley: Travel to Monument Valley for a highly enjoyable cookout lunch with members of the Navajo Nation. You'll take off-road vehicles to the cookout site where you'll enjoy a delicious steak and chicken dinner with a chance to try traditional Navajo tacos and fry-bread.
Taos: Visit Taos Pueblo, a UNESCO World's Heritage Center as well as a National Historic Landmark and one the oldest continuously inhabited communities in the country. Best known for is iconic, multi-storied adobe buildings, built roughly 1,000 years ago. About 150 Puebloans live within the pueblo full time. The Taos Tribal Council, which owns the pueblo, does not allow any modern convenience inside the pueblo, such as running water or electricity.
Santa Fe: Visit the 50-acre property on a private tour with local specialist to see some of Allan Houser's most amazing works known for his magnificent sculptures and paintings depicting various Indigenous tribes.
Must-see Highlights
: Explore the Grand Canyon, Monument Valley, Arches National Park, Canyonlands National Park
: Visit Scottsdale, Mesa Verde, Cameron Trading Post, Horseshoe Bend Lookout, Moab, Durango, Taos and Santa Fe
: Scenic Drive through Sedona's Red Rock Country, Oak Creek Canyon, Grand Canyon National Park's Desert View Drive, Trail of the Ancients National Scenic Byway and the High Road Scenic Byway from Taos to Santa Fe
Trafalgar Difference
Durango: Stay at The Strater Hotel, adorned with beautiful handcrafted woodwork, housing the largest collection of American Victorian walnut antiques. It's Durango's Historic Landmark Hotel, showcasing stories of the old west and mining times.
Whats Included
: An expert Travel Director and professional Driver
: Cherry-picked hotels, all tried and trusted
: All porterage and restaurant gratuities
: All hotel tips, charges and local taxes
: Breakfast daily and up to half of your evening meals
: Must-see sightseeing and surprise extras
: Audio headsets for flexible sightseeing
: All transport and transfers shown
: Luxury air-conditioned coach with Wi-Fi in most countries or alternative transportation (such as rail journeys)
: Optional Experiences and free time
Whats Included
An expert Travel Direc...
Tour Differently isn't just what we promise, it's what we deliver.
Dream holidays without the stress of the 'what ifs', is what we do. We design our tours so you can experience the world differently. You'll get the personal service, attention to detail and ease you're looking for, while enjoying the unmissable experiences you've always dreamed of. Discover why Trafalgar tours have been trusted by 5 million guests and are proud to deliver the very best tours that you'll cherish for ye
...